A New Direction
The "new" RSE is a modern alternative to traditional "Greek life": a trifecta of student self-governance, living-learning-collaboration, and personal/professional development – empowering members to pursue their many interests alongside like-minded peers beyond the classroom.
RSE has been part of RPI for over 150 years. We believe the stereotypical fraternity model no longer provides the value-added experience current students desire. The historic model has  resulted in occurrences of unacceptable conduct and suspensions by RPI. The RSE Alumni and the new student leaders are endeavoring to take RSE in a more modern direction to benefit students, alumni and Rensselaer Polytechnic Institute.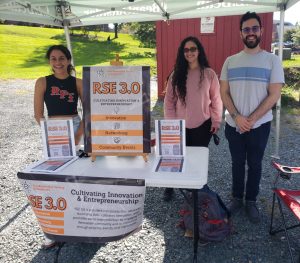 The RSE Mission
RSE is a student-run society that advances leadership skills, cultivates innovation, and promotes social responsibility by engaging the Rensselaer community and its resources through projects, events, and mentorship.
The RSE Vision
The "new" RSE organization envisions a supportive environment for all students to pursue career-advancing activities outside of their core coursework while building life-long friendships and networks by:
Providing Rensselaer students with experiences and knowledge so they can explore their potential
Preparing Rensselaer students to be future leaders through innovation, collaboration, and networking
Connecting the students and alumni of Rensselaer to build life-long relationships at Rensselaer and throughout their careers
The RSE Core Principles
RSE is a new type of organization at Rensselaer created to fill the gap between academics, student clubs, and traditional social fraternities and sororities.  The revitalized RSE is founded on the following core principles: 
Professional Development – RSE provides direct mentorship for students with RSE and RPI alumni as well as interactions faculty, investors, and corporations who are part of the student projects. 
Collaboration – RSE brings together students, alumni, and faculty to create an environment that enables students to pursue their passions and succeed personally as well as professionally. 
Networking – RSE facilitates member connections between students, alumni, and faculty, within the RPI, Troy, and RSE communities through networking events, galas, socials, and lectures.  Membership in RSE allows students to create life-long relationships with other students, alumni and faculty becomes an important part of their personal and professional network. 
Innovation – RSE showcases innovation through the work and accomplishments of RSE Members and their interdisciplinary projects. 
Underlying these core principles is RSE's commitment to Community Service. RSE's unique, 150+ year relationship with Rensselaer provides an important platform to give back to the Rensselaer and Troy communities through community service projects.